Todd Andrews joins the Superformance group of Companies
Posted on Friday 01-08-2010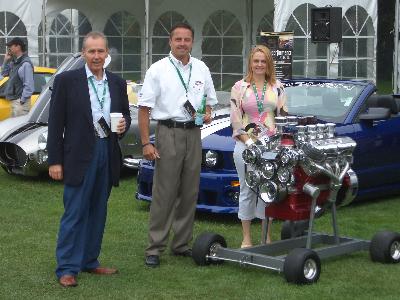 Todd Andrews, one of the most respected specialists in the development and marketing of automotive performance products, has been appointed Vice President of Operations for the Superformance and Shelby Distribution USA organizations. Todd was previously National Sales Manager of the Aftermarket Products Division of Roush Performance Products.
"Todd and I have had a long association and I am very pleased that he has accepted this new position which has been created to create new business opportunities for existing and future dealers distributing our products", said Lance Stander, President of Superformance LLC and Shelby Distribution USA.
"To give us better representation on the East Coast, Todd will be based in Detroit MI. He will, however, work very closely with our head office here in Irvine, CA, as he will also take charge of our new Corvette Grand Sport project, the development of which is in progress at HiTech Automotive in South Africa. He will also launch our new HBR engine range and performance parts," said Stander.
Todd , a qualified electronic and mechanical technician, started his career in the automotive aftermarket business with Roush Technologies in the year 2000. He managed facilities building Roush Mustangs in California, Texas and North Carolina.
When Roush/Yates was formed in 2002, Todd started marketing Roush products at trade shows all over the USA, during the course of which he came in contact with Lance Stander, then a Superformance dealer in California. As a result of their association, Todd started developing special Roush engine and performance product packages for Superformance products.
This association became a powerful marketing tool for the companies, especially after Stander acquired the Superformance brand worldwide in 2005.
"We have attended many car and trade shows these last six years, and we are very comfortable with each other. Todd is going to be a very valuable addition to the SPF/SDUSA team and his business acumen and technical expertise will be of great value to our dealer network", said Stander.
The appointment will be effective in February, from which date the Detroit office of SPF/SDUSA will be officially active.