SUPERFORMANCE TO OFFER TURN-KEY VEHICLES UNDER LVM ACT
Posted on Thursday 03-03-2022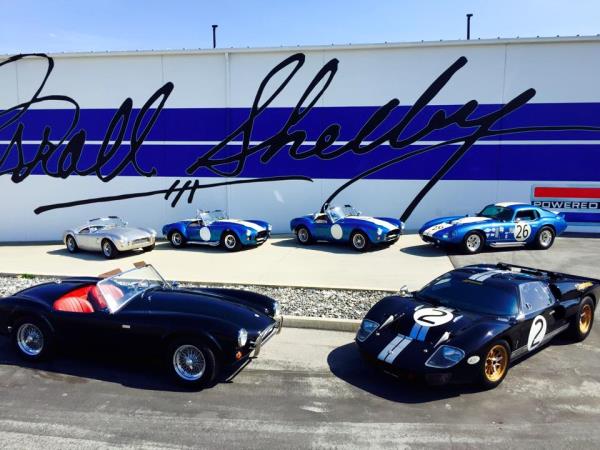 Author
Time Piece Media Group
SUPERFORMANCE AND SHELBY LEGENDARY CARS TO OFFER TURN-KEY VEHICLES ALLOWED UNDER LOW VOLUME MANUFACTURER'S ACT
IRVINE, CALIF. – March 4, 2022 – Executives with Superformance and Shelby Legendary Cars today announced plans to manufacture a limited number of turn-key replica cars under the new Low Volume Manufacturer's Act. The companies intend to offer cars that comply with new rules issued by the National Highway Traffic Safety Administration (NHTSA) and the Environmental Protection Agency (EPA), which resemble the heritage model GT40, Corvette Grand Sport and Shelby Cobra sports cars.

"We're very excited to offer turn-key vehicles under the Low Volume Manufacturer's Act and have aggressively been planning for this day since Congress enacted the bill in 2015," said Lance Stander, CEO of Superformance. "While the legislation was moving through the rule making process at NHTSA and the EPA, we designed processes and vehicles that we believe will comply with all regulations. With all the rules now issued, we'll collaborate with SEMA, engine suppliers and regulators to ensure that our exciting vehicles fit within their framework. Our goal is to sell compliant cars by the end of the year."

Until now, the U.S. had just one system for regulating automobiles, which was designed for companies that mass-produce millions of vehicles. SEMA led the efforts to craft and enact legislation that recognizes the unique challenges faced by companies who produce a small number of custom cars.

SEMA worked with Congress to pass this federal policy change, which became law in 2015 as part of the Fixing America's Surface Transportation Act. In 2019, the U.S. Environmental Protection Agency issued guidelines for installing engine packages from other EPA-certified vehicles and the California Air Resources Board issued a regulation for producing compliant engine packages. NHTSA has now published the final rule, which was signed by Deputy Administrator Steve Cliff, to implement the low volume replica car law.

According to SEMA, the replica car law and implementing regulations allow a low volume manufacturer like Superformance or Shelby Legendary Cars to construct up to 325 such replica cars a year subject to federal regulatory oversight. The cars must resemble production vehicles manufactured at least 25 years ago and meet current model year emissions standards.

Under the guidelines, low volume vehicle manufacturers must register with NHTSA, the U.S. Environmental Protection Agency (EPA) and California Air Resources Board (CARB) before selling cars, a process that may take several months. Vehicles can be powered by electrification or an internal combustion engine that meets current model year emissions standards.

Shelby Legendary Cars has traditionally offered a line of vehicles that were sold as a rolling chassis. Going forward, every complete, turn-key Cobra by Superformance, as a license of Shelby, will be a Shelby Cobra branded vehicle, only. Every vehicle from Shelby Legendary Cars receives a Shelby American serial number and is documented in the Shelby American Worldwide Registry. Consistent with the new law and regulations, the only companies who can manufacture, build and sell a Shelby Cobra or any other heritage Shelby vehicle is Shelby and its licensees.

The Superformance branded line of high-performance cars, including the roadsters, Grand Sport and GT40, are sold as a rolling chassis that can be configured for heritage or modern drivetrains. Enthusiasts still have the option to build a Superformance car from a kit, as well as purchase a turn-key Shelby branded Cobra.

The cars have been sold minus engine and transmission with the selection, purchase and installation of the drivetrain being the responsibility of the purchaser.

"We appreciate SEMA's herculean efforts to enact this critical legislation," said Stander. "Soon enthusiasts will be able to walk into a showroom and drive away in the Superformance or Shelby car of their dreams."
Information is available at www.superformance.com, info@Superformance.com or (800) 297-6253.