Superformance Dealer Pathfinder builds the first MKIIB
Posted on Tuesday 12-02-2014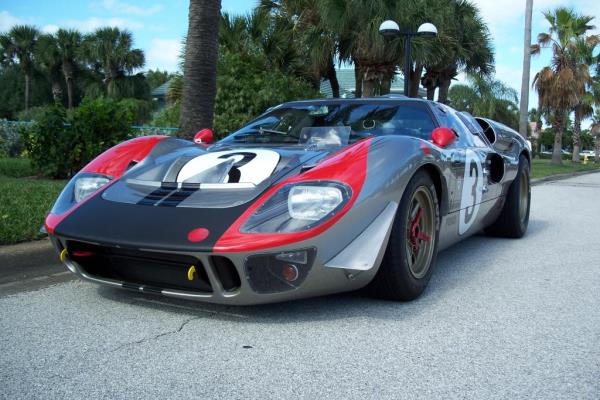 Pathfinder Motorsports recently commissioned the build of a Mk IIB. This is the first Safir-licensed Mk IIB continuation GT40, featuring many accurate details. The Mk IIB was the final version of the Ford-sponsored GT40s, and it represented the acme of track-proven refinements. As an example, the Mk IIB dashboard - different from every other Mk I and Mk II - was so successful that it was carried over to the Mk IV 'J' cars at Le Mans.
The car was in build for over six-months to transform P/2024' into a Mk IIB. This car was built for Pathfinder Motor Sports following significant research using original drawings and records (including technical documents authored by Ford, Holman Moody, and FAV employees R. C. Lunn, Joseph Macura, Jonathan Bowers, A. O. Rominsky, Robert Hogle, H. L. Gregorich, C. D. Jones, Joseph Ihanacik, Jr., and Jerome Meeks), as well as personal collaboration with Lee Holman.
This car features original GT40 components (ranging from a Tennant Panels interior console to an original Lucas 608 mirror), Holman Moody engine and suspension upgrades, Olthoff Racing updates, and dozens of special modifications that add to this car's authenticity.
It features a titanium-silver & black stripe paint scheme with several Le Mans-inspired elements, including red Holman Moody front fender 'eyebrows'; a low-reflection front hood area; and different roundels, fire marshal, and sponsor decals. It is a left-hand drive car but just for safe street ability and domination at any track-day event. GT40 P/2024 is absolutely stunning - and unique!
The list of Pathfinder components and modifications include:
FAV/Holman Moody Mk IIB dash:
351/427 engine supplied with a street cam creating 560± bhp on pump gas and Holman Moody race cam.
Weber-like EFI and Pathfinder-spec custom tall-trumpet air intakes/Pathfinder-developed 'tennis ball' period screen filters.
Pathfinder GT40-style seats utilizing a period-correct parachute-type cloth and original brass grommets.
Mk IIB dash with original Holman Moody toggle plate assembly.
FIA-approved competition fire suppression system.
FAV/KarKraft-style Mk IIB steering wheel with proper leather-cushioned safety hub.
Le Mans Plexiglas front hood driver's side bug-shield and front canard wings.
Original helicopter-spec Plexiglas air vents - two per door (super effective, too!) Front deck lid twin radiator exhaust-flow strakes.
Front and rear Le Mans-style competition brake ducts.
FIA-approved power disconnect.
Original Mk IIB 'C' side-stripes (later carried over to the successor Mk IV 'J' cars)
Unique high-performance original GT40-style down-turn header system in white powder coating.
Custom 5-inch diameter exhaust pipes.
Air conditioning with hidden controls in driver's door panel
ZF 5-speed transaxle.
FIA fender wheel extension 'wing'.
FIA-approved tow loops fore and aft.
Ford-marked dual roundel number and 'competitor identifier decal' lights.
Gold Hallibrand style wheels with blue (right) and red (left) anodized spinners.
Avon race/street DOT tires: 295/50 rear and 215/65 front A truly stunning car.
Well done to all who were involved.