The Block Feature Car - Superformance 1963 Corvette Grand Sport Replica
Posted on Wednesday 01-21-2015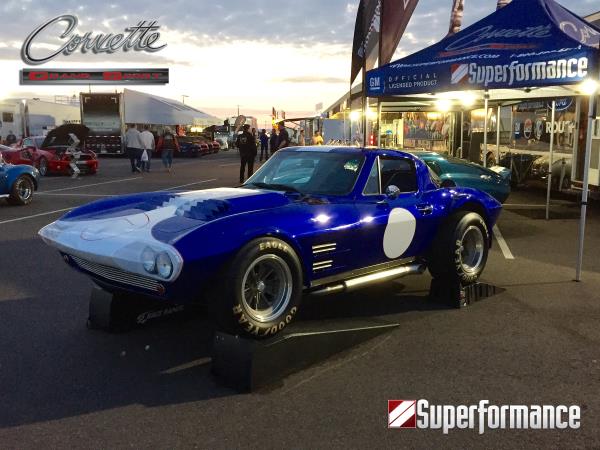 When attending a show like Barrett-Jackson, you know you will come across some of the rarest vehicles on the planet. Without question, one of the rarest and most desired vehicles has to be the 1963 Corvette Grand Sport. Most Chevrolet fans know to accredit the '63 Z06 to Zora Duntov, but a lot of times we forget that Duntov was also instrumental in creating one of the rarest Corvettes of all time.
In 1962, Duntov and his team secretly began working on a lightweight version of the famed Corvette. Duntov's team took the best in Corvette engineering and created a serious performer destined for Daytona, Sebring and even LeMans. From here, most know the history. 125 were originally planned for production, however, no thanks to a ban on motorsports from the AMA, Chevrolet was forced to shutdown the program when only five were produced. As unbelievable as it might be, all five are accounted for today and are some, if not the most, valuable Corvettes of all time.
Let's face it though, with there only being five in the world, you stand a better chance of winning the lottery twice than you do of getting the opportunity to sit behind the wheel of one of the legendary '63 Grand Sports. However, at Barrett-Jackson Scottsdale we discovered some good news. The folks at Superformance have created a Corvette Grand Sport Continuation that is incredibly authentic.
"Even down to the mag wheels, everything is built off of original specs," Explained Todd Andrews of Superformance. "Of course we improved where we could, no reason to carry over all the outdated technology."
Working directly with Chevrolet, Duntov Motors, Racing Icons, plus other sources, Superformance took their time and made sure that everything was scrutinized. "Getting it right has taken some time, it's been a 5-year project to get where we are today," Andrews said. While a few models have been displayed over the years at Barrett-Jackson Scottsdale, Superformance announced that the Grand Sport was finally available for purchase. That's right, you can own one of the most iconic Corvettes of all time, and not pay the value of one of the originals.
This particular example is powered by an LS7-based KATECH powerplant that produces an estimated 600hp. "When you order a Grand Sport, it will arrive to one of our dealers as a rolling chassis that is ready to have the engine dropped in," Andrews told us. "It's shipped with the wiring harnesses for an LS3 or LS7 built into the car. Our Installers can literally just drop an LS3 or LS7 into it and you'll be ready to go. But, if you want something more period correct, you can conveniently tuck the wires away."
Underneath is equally impressive. You'll find a complete factory-assembled rolling chassis equipped with fully independent front and rear suspension. At the corners, Superformance chose to go with Bilstein coil-over progressive shocks with H&R Springs. Stopping power comes courtesy of Wilwood four-wheel vented disc brakes equipped with power assisted brakes.
When you build a car of this historical significance, you will certainly attract some attention from the Chevrolet faithful. So, how will a car like this be received? "The loyalists have loved this car," Andrews explained to us. "We've actually placed a few orders this week and are even building a Grand Sport for Ken Lingenfelter and we are even planning a special "Lingenfelter Edition " of the car."
If you are like us, you can't help but love a Corvette like this. If you have ever dreamed of owning a Corvette Grand Sport, but don't have $5-8 million to drop on one of the original rare five, then this is as close as you can get. Instead of seeing it tucked away in a museum, you can now roast the tires at will. For ordering information visit Superformance's home on the web at Superformance.com.
link to the article