A Shelby Cobra Daytona Coupe is awarded Car of the Year 2014
Posted on Wednesday 11-26-2014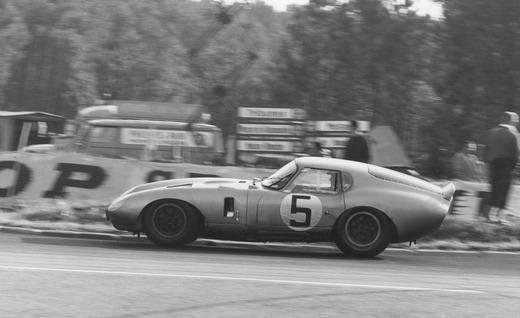 Shelby Cobra Daytona Coupe (CSX2287) owned by the Simeone Foundation Automotive Museum of Philadelphia added another award to its growing list of accolades by being recognized at a black tie event in England as Car of the Year at the 2014 International Historic Motoring Awards program. Adding to the prestige of this award is that the voting is done by the car-loving public, not by a panel of experts.
This car is one of only six original Coupes built and the only one built entirely in the USA. In 1964 this was originally designed by Peter Brock while working for Carroll Shelby. Phil Remington and Dave Mac Donald were part of the Shelby American Crew who prepared the car to complete in the SCCA and USRRC circuits when racing icons like Phil Hill, Chris Amon, Bob Holbert and Dave MacDonald raced the car to its many victories.
Earlier this year, this car became the first automobile accepted to the National Historic Vehicle Register, a program by the Historic Vehicle Association and the U.S. Department of the Interior and the Library of Congress. CSX2287 set 23 records at Bonneville in 1965.
CSX2287 disappeared from the public eye and was considered lost by the mid-1970s, with car historians and collectors fearing the car had been destroyed. In 2001 Shelby Cobra Daytona coupe CSX2287 was discovered in a storage facility in La Habra CA. The car had been missing for over 30 years. Once discovered the car was sold to Frederick Simeone who hired racingicons.com to restore it for him.