Quick spin: Superformance MKIII R Kickstarts our hearts (by Jonny Lieberman)
Posted on Wednesday 11-18-2009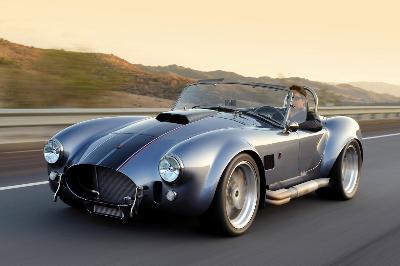 "...Perhaps it's not a "real" Cobra, but here's what Carroll Shelby has to say about Superformance's efforts, "It's not a true Shelby, but I've endorsed and licensed the car for being as close to correct and well-built as possible." Good enough for me."
"...The longer you leer the better looking it gets. From the pontoons supporting the tri-power lights, to the longer than you'd think snout, to the massive rear-haunches, to the aluminium dash and rear-firewall – every line, every curve, ever angle is placed perfectly and brought to life by a meticulous finish. Drew, for his part, has shot dozens of Cobras and kept repeating, "I think this is my favorite." Mine too..........I think it's safe to say I'm in love with this smashing, wonderful, incredible monster of a car – the culmination of a childhood dream that, for once, exceeds expectations."
Link to the Article: Click Here!