The Perana Z-One to make first major appearance at Barrett Jackson Las Vegas
Posted on Monday 08-30-2010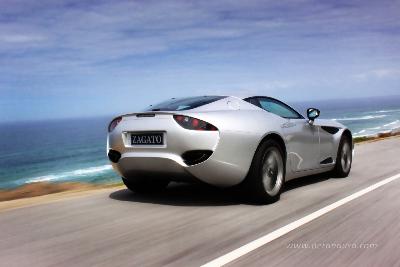 The exciting new Perana Z-One is set to make its first major appearance during the Barrett-Jackson auction and collector car event in September 23-25, 2010. Designed by world renowned Milanese coachbuilder, Zagato, the Perana Z-One is expertly manufactured by Hi-Tech Automotive and sold exclusively in the U.S. through Superformance Distribution.



The breathtakingly beautiful Perana Z-One is an ultra high-performance sports car with a front-mounted engine and rear-wheel drive. The secret to the Perana Z-One's outstanding performance is its near perfect combination of a powerful and responsive engine, a lightweight design, 50/50 weight distribution and superb handling. The Perana Z –One is currently engineered to accommodate a GM LS3 or LS7 series engine backed by a 6-speed performance transmission.

Besides the extraordinary performance capabilities of this 2,800-pound sports coupe, the Z-One offers exclusivity and a stunning body designed by the same design house that brought us the Maserati GS, Ferrari 575 GTZ, Spyker C12, Diatto Ottovu and Bentley GTZ. The luxury cockpit is swathed in leather and Alcantara and features such standard amenities as cruise control, a navigation/entertainment system, power windows and locks as well as air conditioning. The Perana Z-One's sleek looks are further enhanced by bespoke Zagato-designed 19- and 20-inch wheels.



As the number nine has always been a significant number for Zagato, production of the Perana Z-One has been set at just 99 units per year for the U.S. market and the vehicles will be priced at $99,999. Visitors to the Barrett-Jackson collectible car event in Las Vegas will be able to see this great Sports/GT up close in the Superformance vendor booth. Besides the new Perana Z-One, Superformance will also have a selection of other vehicles from their extensive lineup.

Perana Z-One Background



The idea of producing a modern Italian-styled, American V8-powered sports car was incubated in late 2007. The Perana Performance Group was created to bring that dream to fruition. A little over a year later, the Perana Z-One show car enjoyed its world premiere at the Geneva Motor Show in March of 2009.

The Perana project is the result of Zagato's nine-decade-long expertise in constructing fully functioning running concepts. Virtual reality development has been integrated from inception, effectively eliminating the need for the traditional styling model and enabling the prototype to be completed in less than 4 months.



The Perana Z-One new car is very much a back to basics, no frills sports car which demands driver input beyond that required by the established players in this segment of the market.

The selection of emission-compliant GM E-ROD LS-series crate engines ensures high performance, drivability, reliability and serviceability. The General Motors Performance Parts crate engines also come with a full 24-month, 50,000-mile warranty from GMPP.



The Perana Z-one also showcases Hi-Tech Automotives world-class engineering and production capabilities which allow this coach built car to be offered at a price hitherto perceived to be unattainable. There is no car currently available that boasts this level of power, performance and styling...especially at such an unparalleled price.

About Superformance



Superformance Distribution is a distributor of hand-built specialty cars that has operated in the USA since 1999. Some of the vehicles that Superformance Distribution handles include the iconic 1960s Shelby 289 and 427 S/C Cobra and the Shelby Cobra Daytona Coupe. Superformance Distribution has also distributed the limited edition Foose Coupe, Shelby Series 2 and the Hot Rod Hawg. Superformance Distribution has also recently been appointed the sole USA distributor for the Perana Z-One.

Superformance LLC, the sister company of Superformance Distribution, carries its own product line which includes the Superformance Corvette Grand Sport, MKIII, MKII-FIA, GT40 MKI, GT40 MKII and the GT40 R track car. Superformance reproductions have earned much recognition in the industry, with an extremely high build quality and superb attention to detail that has resulted in high resale values. Fully licensed by the original trademark owners, Superformance products enjoy registry eligibility and are even eligible for vintage racing in some cases.



Superformance is renowned for its personal touch, establishing relationships with over 3,500 satisfied customers over the years through an extensive dealer network both in the USA and abroad. Superformance has a long-standing relationship and build contract with Hi-Tech Automotive, a renowned specialty car production facility.