Carroll Shelby and Superformance Intl. settle infringement dispute
Posted on Friday 02-04-2005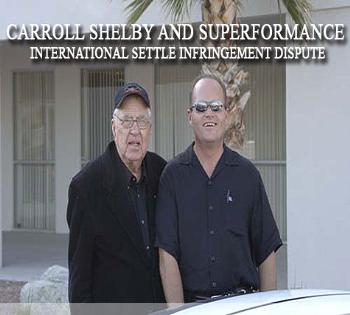 LOS ANGELES, February 4, 2005 - Carroll Shelby (" Shelby") and Superformance International ("Superformance") have settled their remaining differences regarding alleged trademark and trade dress infringements with regard to the Shelby Cobra and Shelby Cobra Daytona Coupe body shapes, and have also agreed to begin working together to advance their mutual objectives of making the highest quality products available to their customers.
"I am pleased that Superformance has recognized the value of being associated with the Shelby entities, and on my part, I recognize Superformance in the replica car business for their quality of design and engineering integrity," said Carroll Shelby, chairman of Carroll Shelby International, Inc. (CSBI.PK).
"There are several ways in which a closer relationship between the Shelby entities and Superformance can create synergy that will benefit both corporations, as well as capitalize on each companies strengths," said Mr. Jim Price, president of Superformance.
"For example, we have in Hi-Tech Automotive, a modern and very capable engineering and manufacturing facility in South Africa," said Price. "This enables the possibility of future manufacturing of components or other products for Shelby Automobiles to Shelby's high specifications. We are very interested in exploring such opportunities, which we feel would be of benefit to both organizations."
In describing the new cooperative relationship between Shelby and Superformance, John Luft, President of Carroll Shelby Licensing, Inc., said "Carroll Shelby, Shelby Automobiles and its independent dealer network will continue to produce, manufacture and sell the only authentic Shelby Cobra branded products, built to original specifications, inside and out…but Superformance's products will be the only component vehicles licensed with the permission of Mr. Carroll Shelby to replicate the shapes of his famous 289, 427 and Daytona Coupe vehicles, originally manufactured in the 1960's. We are very excited about this new licensing arrangement."
The companies have also put into place the framework whereby the Shelby organization can expand its operations by making authentic Shelby Cobra products available to Superformance's dealer network in the US.
"Mr Shelby and Mr Price have confirmed that the foundation of mutual respect and co-operation that has developed will now be the focus of the future efforts of both companies, rather than protracted and expensive litigation," said Mr. Ronnie Kruger, CEO of Superformance International.