Superformance Owners tour Door County and Washington Island WI
Posted on Monday 06-01-2015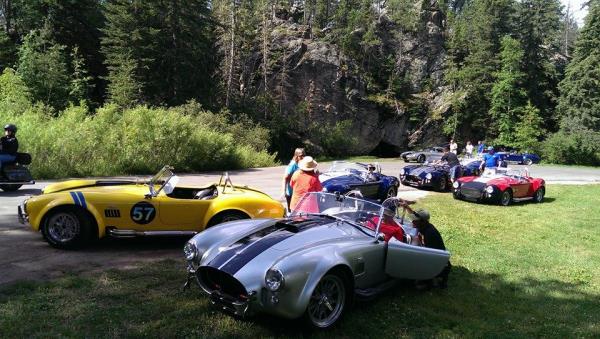 May 28-30, 2015
SCOF (Superformance Owners Forum) run by Randall Thomas is a fun group to belong to and this was just one of the many get together events arranged by him. Below is an account of the event.
"Along with the rest of the Superformance participants, we were blessed to see and experience many new things in the amazing Wisconsin Door County peninsula that we never knew existed. It's just almost indescribable.
Oh, and the curvy roads were incredible too.
As we drove near the lake Michigan shores, the temperatures would drop from the 80's to a brisk fresh 50 degree range in the distance of only an 1/8 mile of travel. Was that ever freaky.
As we drove north we could see time being turned back as the lush, full leafed trees became barer and barer almost as if it was March again. Just amazing to experience in a Cobra.
The one really nice thing was the lack of other cars and people on the road. Virtually nothing or no one! The week after Memorial day has proven twice to be a fabulous choice to own the roads.
The people of Washington Island once again proved to be amazing... such as the Island sending another carferry just for us so we could stay together on the trip over. Such as the propriortors at Nelson's Hall and then later at the Lakeside restaurant begged us to make some noise and spin the tires as we left, as they stood outside and cheered. Such as the hotel calling us at the pub (they somehow found us!) to tell us they were waiting for us. Then there was the restaurant in Egg Harbor who put on a unique traditional Door County fish boil just for us that they otherwise were not holding until July. All very cool, and the hospitality was very welcoming and appreciated. The resort in Egg Harbor could quite possible be the most relaxing place I've been to in the entire world, with waves pounding the beaches and the interior decor from the 30's just amazingly authentic that is sent you back in time.
The weather was awesome on Thursday, and while it drizzled on Friday morning it became pretty darn nice at 2pm and was down right gorgeous at 4pm on into the evening. Saturday became pretty cool and rainy but... if you have never driven a day in the rain in a Superformance, you have no idea how cozy and comfy it can be inside under the new style soft tops.
We were able to keep a lot of cars together for 422 miles. And for many this was their first out-of-the-trunk road trip they had and what a reliable Superformance car was meant to do. And it does it well! "