Superformance at Monterey Historic Vintage Racing Event - August 2009
Posted on Saturday 08-15-2009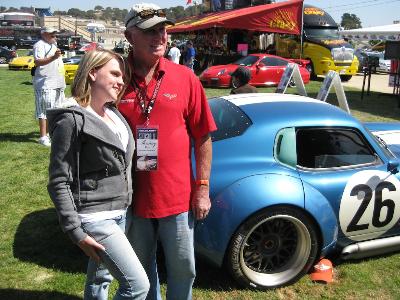 Superformance Distribution had an amazing display of 60' legendary cars on display at the Monterey Historic event in August 2009. Bob Bondurant and Peter Brock visited the booth along with lots of Superformance owners and fans.
An Original Daytona Coupe (CSX2601) sold at Mecum Aution Block in Monterey and set the record for the highest price paid for an American car at Public auction. Selling price was $7.25 million. A new version of the Daytona Cobra Coupe CSX9000 is now available through select Dealers. For information please email us at info@Superformance.com
"Since 1974, the Rolex Monterey Historics have showcased the world's passion for vintage racing cars and has risen to a preeminent place on the international motorsports calendar, held at the beautiful Mazda Raceway Laguna Seca. This General Racing event is a multi-day showcase of the cars and people of motor racing history from the beginning of the sport to the present day, showcasing over 400 of the finest vintage racing cars in the world, while encouraging their preservation so present and future generations can see them perform as they once did."