Superformance is appointed the USA distributor of the Perana Z-One
Posted on Wednesday 07-14-2010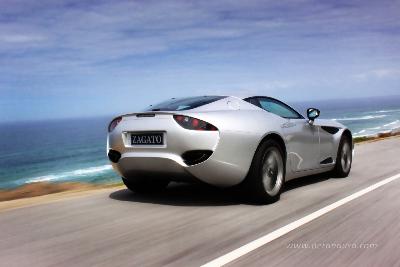 Superformance Distribution is proud to announce their appointment as the US distributors of the exclusive Perana Z–One Coupe. The Perana Z–One will be unveiled at this year's prestigious "Concorso Italiano" which is being held on the Laguna Seca Golf Ranch in Monterey, California on August 13th, 2010.
The development of the Perana Z–One (Pronounced Zee – One) all started when the Perana Performance Group commissioned the iconic Italian coach builders, Zagato, to create an avant-garde design for their new sports coupe. Nori Harada, head of Zagato Design, accomplished just that. With a design ethos relying on more than 90 years of de luxe individualized craftmanship, the brief called for Zagato's trademark styling of the Perana Z-One to be Simple, Light and Aerodynamic.
Shown for the first time, as a concept, at the 2009 Geneva Motor Show, the Perana Z–One created a stir and received instant acceptance by a discerning press and public. Perana Performance Group was then invited to attend the premier European concourse event, the "Concorso d' Elegaza" at Vila d'Este on the Como in Italy, where again, the Perana Z-One received much acclaim.
Although the Perana Z–One was only destined to be sold into Europe, the UK and the UAE, there was a surprisingly strong response from the USA and , after due consideration, it was decided to make a limited amount of 99 per annum available to the US market' said Perana Performance Group's spokesperson, Mr. Jim Price. " Having had close ties to the Superformance Group for many years and knowing just how well they understand that market has led to this partnership" he continued. The Perana Z-One was designed to be powered by either the latest emission compliant "E-Rod" GM LS3 (436 hp) or the LS7 (505 hp) engine matched with a 6-speed transmission. A ZF limited slip differential makes up the exceptional drive train package.
The interior incorporates Recaro seats, leather and Alcantara trim, HVAC Air Conditioner), double DIN head unit (Radio/Sat.nav.), power steering as well as electrically controlled windows, door locks and mirrors. Other than a brake upgrade, exterior color and interior trim choices, there are no other options required or offered. "At a price under $100,000.00, the Perana Z-One is an exceptional package of power and performance for a Zagato - styled, hand built, vehicle that returns us to the purist racing traditions of the past – a true driver's car. Limited availability is sure to instantly turn this car into a highly desirable and valuable collectible" commented Superformance CEO Lance Stander.
For more information please call (949) 900-1950 direct email inquiries to info@PeranaUSA.com
Keywords: Perana, Parana, Perana Z - One,Parana - One, Perana Z1, Parana Z1.