Superformance at 2023 Amelia Island Concours d'Elegance
Posted on Friday 03-03-2023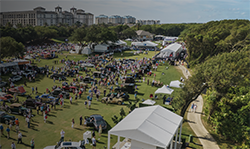 Superformance LLC, a distinguished manufacturer of classic sports cars, is all set to participate in the upcoming 2023 Amelia Island Concours d'Elegance, one of the most prestigious automobile events in the world. The event, scheduled to take place on March 5th from 9:30 AM - 4:30 PM, is known for its strict selection criteria and attracts collectors, enthusiasts, and industry experts from around the globe.
At the 2023 show, Superformance LLC will display its exceptional workmanship and attention to detail, showcasing a variety of classic cars, including some of the most iconic designs produced by the company, such as the Superformance MKIII, GT40 and the Corvette Grand Sport by Superformance.
This year's event will be especially significant for Superformance LLC as it will celebrate the Carroll Shelby Centennial. Carroll Shelby is a legendary motorsports figure known for his iconic designs and racing accomplishments. Superformance LLC is attending Amelia island with Shelby Legendary Cars and Shelby American to honor his legacy.
Superformance LLC's participation in the 2023 Amelia Island Concours d'Elegance is a testament to the company's commitment to excellence and its dedication to preserving the heritage of classic sports cars. The event provides an exceptional opportunity for Superformance LLC to showcase its work to a broader audience and connect with potential customers and industry experts.
In conclusion, Superformance LLC's attendance at the 2023 Amelia Island Concours d'Elegance is a significant event for the company, offering a chance to celebrate the legacy of Carroll Shelby and showcase its exceptional quality. The event will attract considerable attention, and Superformance LLC is poised to make a lasting impression on attendees and automobile enthusiasts alike.
Get Tickets ( https://www.ameliaconcours.com/event/tickets)