Local veteran diagnosed with terminal cancer gets the surprise of a lifetime
Posted on Thursday 11-09-2023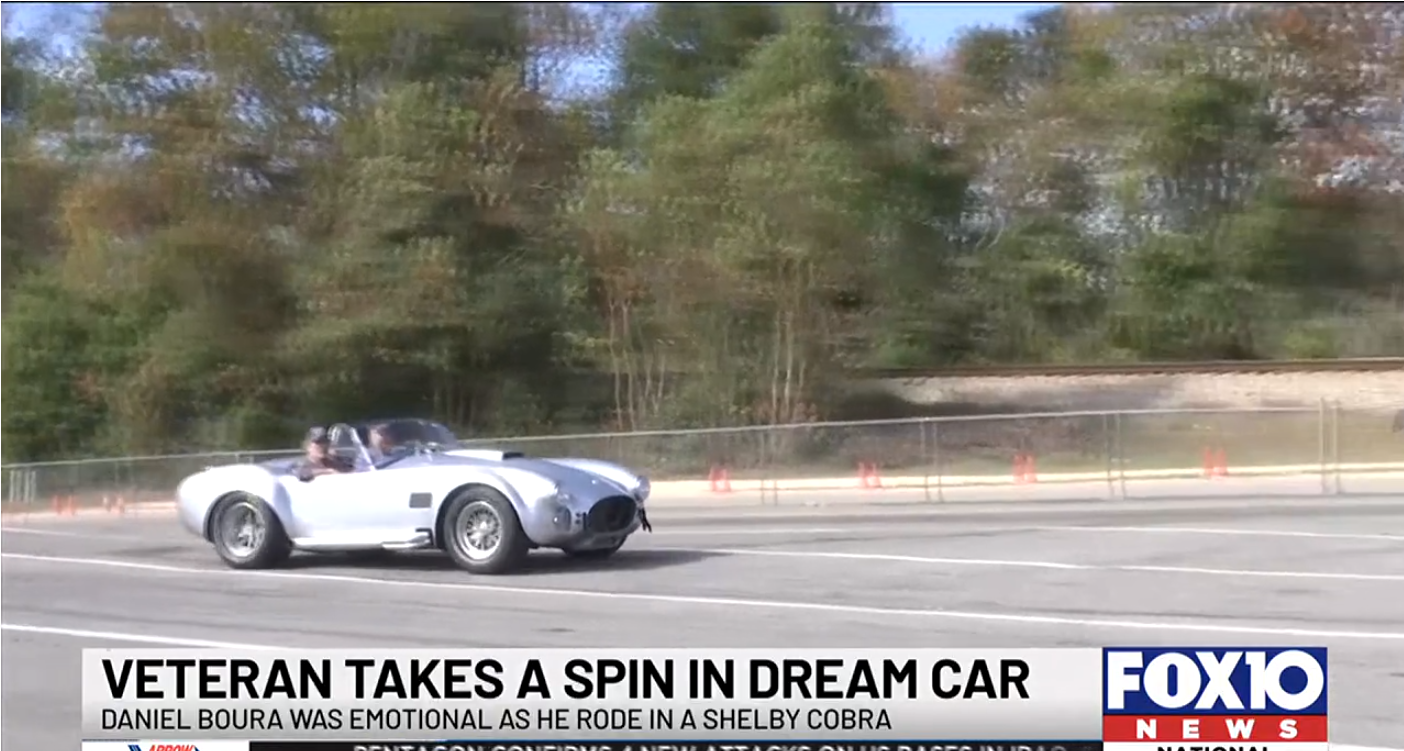 Local veteran diagnosed with terminal cancer gets the surprise of a lifetime
Daniel Boura's biggest dream was to take a ride in a Shelby Cobra sports car...and he finally got his wish.
Daniel Boura, a local veteran, was recently diagnosed with terminal lung cancer. His biggest dream has always been to take a ride in a Shelby Cobra sports car.
"I couldn't buy one, but I always thought- if I can get a ride in one, that would make my day," he said.
Boura has been a long-time patient at Vets Recover in Mobile. When the VRR team caught win that he'd alays dreamed of riding in a Shelby Cobra, they sprung to action.
"He shared some memories of being at the track with his dad and how his favorite car was a Shelby Cobra and when he said that- something sparked in me. I've got to find this man a cobra," said Rhondi Foley, Peer Support with VRR.
The Superformance Car Owner's Forum heard about the touching story, and David Steel from Chicago jumped in.
"Anytime you get a chance to give back to folks that put their lives on the line for our freedom, how can you say no?" Steel said.
It was nothing but pure shock on Boura's face when he laid eyes on the car.
"I'm overwhelmed- I don't know how else to put it. I feel it, but I don't feel it, if you know what I'm trying to say. I never expected this to happen," he stated. "It's been a dream of mine since 1964 when they first came out. I'm a car fanatic."
Boura served in the U.S. Military in Vietnam. He worked as a mechanic, crew chief, and heavy vehicle driver.
Boura's lung cancer is believed to be caused by toxic exposures during his time in the military. But today, he says he's thankful to be here to soak in every moment.
"I'd just like to thank VRR and the veterans that are here that stood behind me and helped me get this way. I want to say thank-you. Without them, I don't think I'd even be here right now," he said.
He's holding on to this memory forever.
"I got what I wanted. I got the ride of my life, let's put it that way. I couldn't ask for a better birthday present or a better way to spend my Veteran's Day. I wouldn't change it for anything in the world," he concluded.
https://www.fox10tv.com/2023/11/09/local-veteran-diagnosed-with-terminal-cancer-gets-surprise-lifetime/