Appetite for Autos" Event Exposes Exotic Car Owners to Grayhawk Golf Club & Vice Versa
Posted on Sunday 04-17-2011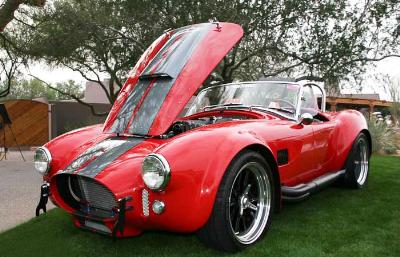 Superformance dealer, John Migaglia of Scottsdale Sports and Classic Motorcars, located in Scottsdale AZ, just sent us a some photos regarding a fun event recently held at the Grayhawk Golf Club in Scottsdale. The event was put on by Brian Graff's Highline Autos.
The "Appetite for Autos" show was once again hosted at the Fairway House of the Grayhawk course in Scottsdale. Nearly 250 luxury and collector cars worth up to $1 million were on display including a 1965 Shelby Cobra, 1958 Scarab Roadster, 2010 Lotus Evora, 2010 Audi R8 Spider V10 and a 2009 Rolls-Royce Phantom Coupe.
The cars were parked near the picturesque 18th hole, right on the grass by the lake. It was a beautiful setting for the event, held to celebrate cars and to expose more car lovers to the course and cuisine at Grayhawk.
"It is a way for those involved in the hobby to get together and have a good time," Highline Auto's Arizona President Brian Graff said. "This is an event not to be missed."
Grayhawk Golf Club opened in 1994 and was chosen by Highline Autos for its immaculate grounds and top-notch service, according to Graff.
Officials at Grayhawk have more experience putting on bar mitzvahs and weddings than car shows, and apparently they had to work to figure out the best places to put the cars.
"It's more foot traffic than the grass is used to," Grayhawk's head golf professional Doug Hodge said. "Fairway House has a beautiful view. It goes hand-in-hand with these cars."
A fan of classic cars, Hodge, 36, was excited about the exposure Appetite for Autos gives Grayhawk. "It's great when a new type of person learns about the course," he said.