DIMENSIONS and CAPACITIES:
Wheelbase: 90"
Length: 152"
Height (Top of screen): 48"
Width (Overall): 69"
Track Front: 54"
Track Rear: 57"
Fuel Tank: 17 gal.
Front Wheels: 15" x 8J
Rear Wheels: 15" x 10J
Tires-Front 255/60 R15
Tires-Rear 275/60 R15
Ford Super 8.8 differential. Ratio 3:55:1
Empty Weight: 1,840 lbs.
351 Motor 2,485 lbs.
427 Motor 2,590 lbs.
460 Motor 2,660 lbs.

CHASSIS:
Jig-Welded parallel ladder frame of heavy wall 2" x 4" rectangular steel tubing with large diameter outriggers. Frame incorporates front and rear crumple zones. Door hinge, steering column and windshield pickup-points incorporated onto main chassis.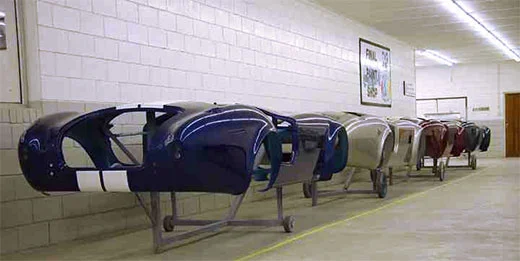 BODY:
Hand laid fiberglass panels with steel tube reinforcements in all openings. Where the body points carry loads thay are reinforce with steel bars or panels. Body bonded to chassis and is completely non-stressed. Supplied painted in base coat and clear coat urethane finish. Body in aluminum optionally available.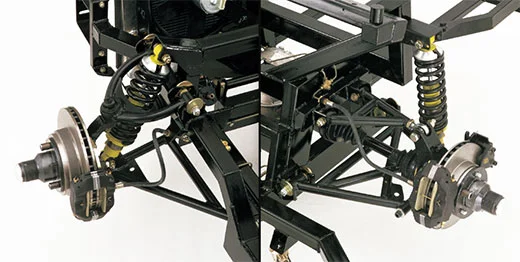 FRONT & REAR SUSPENSION:
The front sports a fully independent unequal length A-arms with adjustable Bilstein coils over telescopic shock absorbers, while the rear is also independent unequal length A-arms, with fabricated hub carriers and coil over shock absorbers.
STEERING:
Rack and pinion. Original style steering wheel.
PEDAL BOX:
Fabricated steel plate pedal box assembly with adjustable pedal pads. Incorporates brake booster and master cylinder assembly with hydraulic clutch actuation.
FRONT BRAKES:
Wilwood big-brakes. Ventilated disc with 4-pot calipers.
REAR BRAKES:
Ventilated disc. Cable-operated hand brake actuates rear brakes.
ENGINE and TRANSMISSION:
Installation kits are available for Ford 302, 351, 460 and 427/428 cubic inch engines with Tremec 5-speed or Ford top loader 4-speed transmissions. Ford Limited slip differential. Ratio 3:55:1 as standard equipment.
EXHAUST SYSTEM:
Superformance MK III: Side-mounted exhausts to original specifications. Superformance Roadster: Custom made muffler and tailpipes with stainless extensions.
GENERAL:
Latest technology single row high performance aluminum core radiator with 2 thermostatically-controlled electric fans; original specification oil cooler; hand fabricated stainless steel engine louvers; heater unit with 2 speed fan; original style wiper assembly with 2 speeds and 140 degree wiper arc; hand fabricated windshield assembly to original specification, chrome plated.
INTRUMENTATION/CONTROLS:
Custom digital led lit gauges, fitted to original S/C and Roadster lay-outs. Hand crafted shifter and handbrake.
INTERIOR:
Hand made seats upholstered in German specification automotive leather. Fully carpeted floor, center console, sides and rear firewall. Slide adjusters for driver's seat. Tonneau cover and soft top supplied as optional equipment. Hard top optionally available.
PLEASE NOTE:
All Superformance products are supllied complete, but without engines and transmissions. The selection, purchase and installation of the drive train are the responsibility of the purchaser.